Build a Custom Home on a Great Home Site
Most homes on Callawassie Island have been custom built. A variety of quality builders contributed to a wide variety of Lowcountry style home throughout the island. Even The Club Cottages with prescribed designs were customized considerably.
Streamlined New Home Process
Callawassie Sales is championing the development of a streamlined New Home Process in which experienced builders offer selected home designs with published prices and streamlined schedules.
History of Building
The following chart shows the extent of building over time.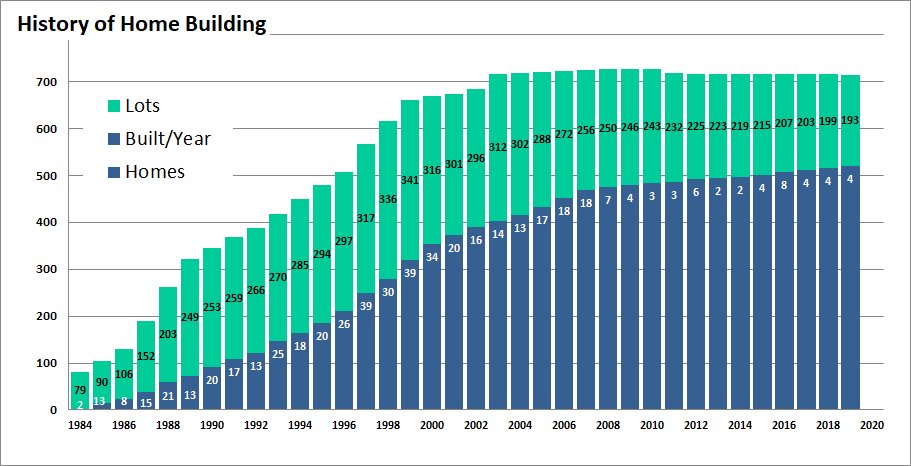 Almost 200 home sites remain providing the opportunity for growth, while the 500+ homes built offer a firm foundation to assure continued vibrancy of the community.
Custom Building is limited only by the imagination and budget of the owner. Custom builders offer the opportunity to have your dream home, consistent with the look and feel of Our Island and Lowcountry. The Architectural Review Committee must approve any design and inspect throughout the building process.
Click to download a copy of the latest ARC Design Guidelines here.
Lowcountry Home Designs - Renown Lowcountry architects like Allison-Ramsey, the Moser Design Group, Court-Atkins, and others offer portfolios of home designs well suited to Callawassie Island and other Beaufort Communities. Our own William Hirsch, has written an award winning best selling Amazon book, "Designing Your Perfect House", and his developing a portfolio of home designs specifically for Callawassie Island.
Selected Builders have built many such homes, often adapting and improving the style to fit the latest buyer tastes.
Home Sites - There is a large variety of home sites available. Callawassie Sales is in the best position to explain the characteristics and benefits of the various Callawassie Neighborhoods and highlight featured properties. There is a wide selection of marsh-front home sites on Callawassie Island more than any other Lowcountry community.
Callawassie Sales is the place to go for insight and innovation and an understanding of the home site inventory. Check with us first, we typically know before anyone else when properties will be coming on the market. Call Joe T at 843-441-5760.